Android Apps Games: Mobile phones are playing a key role in the present lifestyle. People these days are so very much addicted to android apps games like Temple Run, Subway Surfers, Angry Birds, Candy Crush Saga, Fruit Ninja, and chat apps like We Chat, Line App, WhatsApp, BBM, etc.
We come across some people whose mobile phones do not support a few apps. Those people can have such apps on their PC or Laptop and have fun. This article helps you to do that.
Ever Heard Of Android Emulator?
When you install an android emulator, you can download, install and play Android games on your computer. If you are a developer, you can test the app from your PC without using android mobile. You can synchronize apps from mobile to the Computer or Laptop.
Softwares To Download, Install, Play Android Apps Games On PC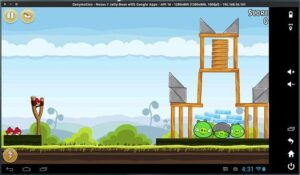 Genymotion
Genymotion is Android Emulator Software that runs on Windows, Mac, and Linux. The software is very fast, simple which comes with high-accelerated graphics, and supports 3D Android games.
When compared with Bluestacks, Genymotion is very fast. The best part of Genymotion is it supports GPS widgets for the developers.
Once you get signed in to the website, the software can be downloaded onto your computer. At the time of installation, you can choose the hardware configuration and the android operating system version.
After the installation of the software, you can connect to your Google Play Store account and download Android Games directly to a PC to run them. The downloaded games support all windows 8, 7, and XP operating systems. Genymotion is the best alternative to Bluestacks and YouWave.
Also, Read
Connect Internet From PC or Laptop to Android Mobile Phone
Move Android Apps from Phone to SD Card without Rooting
Bluestacks
Bluestacks is one of the popular android emulators. The apps that are installed through Bluestacks can be accessed in HD. Using Bluestacks you can directly install apps on to PC or Laptop through Google Play Store. Multiplayer Android gaming, 3D and HD online Games can be played on a Computer.
Youwave
Youwave is an alternative to Bluestacks which have similar functionality. The software is limited to free edition can be downloaded through the official website.
Hope this article is helpful to access your android apps on your computer.