Way to Record Audio
Publisher:
www.camstudio.org
License:
Freeware
Filesize:
Price:
$0
Date added:
January 23, 2022
Downloads:
Have you ever thought of recording your voice on your computer or recording a skype audio call ? Yes! One can actually do that by following this post. There are many software's available in the market, which helps to make this possible on your computer, these software's records whatever that is playing on your PC speakers and on Microphone.
These days computers are becoming part of one's life as a lot of people use them in their homes for playing games, listening to music, watching videos on YouTube, do Skype calls and much more. Sometimes we really feel like recording our beloved one's voices, music or anything else that you wish to hear again and again. To perform this task with the PC or a laptop, It should have a microphone and Speakers.
Record Audio On PC or Laptop (Windows 8, 7, XP)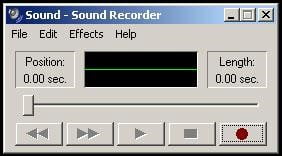 If you are using windows operating system, the audio recorder software comes by default. Follow the steps below.
Open run command
Type sndrec32 and press enter
A popup window opens
Click on the start recording button with red dot
After this step the recording starts and the Green Bar moves. And to stop the Recording press the Blue button.
Apart from the above method, we can also record voice on computers by using software's .
Audio Recording Software's For PC or Laptop
Audacity
Audacity is one of the popular audio editor and audio recorder software. It is free, open source software with advanced editing features. The software is compatible with Windows 8, Linux and MAC.
Camstudio
Camstudio is one of the free, open source audio and video recording software. This software can record the computer screen and the audio can be extracted separately in the MP3 format.
Also Read
Program Uninstaller Softwares for Windows
Fix Blue Screen Error in Windows
Troubleshooting Steps, if the sound is not recorded on your computer or laptop
First check whether the system has Audio drivers or not.
Confirm whether the Microphone and Speakers are working or not.
Check whether you placed the Microphone pins in the correct port or not.
If you are using old version audio drivers update them.
So these are the ways to record audio or voice on your computer. Hope you all like it.