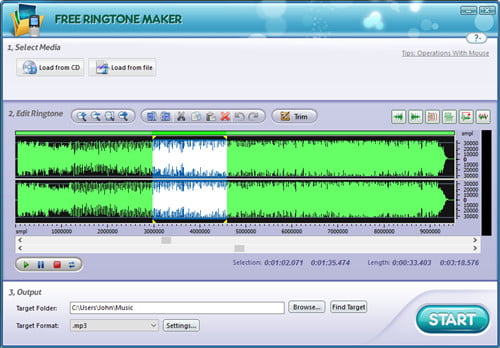 Ringtone maker software basically allow users to edit and customize the effects, the length and the endings of audio files. Also, to ensure that a mobile device plays back the audio file as a ringtone, the software saves it in specific audio formats that are compatible with the particular mobile phones. They are indeed great personalization tools. So, which of them is the best? Here are the 5 best PC ringtone maker software for windows 8.1, 7 and windows 10.
Ringtone Maker Software Get Creative With Your Own
Audacity
Audacity is a free and open source ringtone maker. It also boasts of a very impressive performance. Not only does it record live and streaming audio, but it also digitizes audio from cassette tapes, mini discs and even records. It supports multiple file formats which can be cut, copied, splice and mixed together. As for the effects, a user is able to control the pitch and the tempo of an audio file. It also packs a device tool-bar that conveniently manages multiple recording and multiple playback.
Ringtone maker
This is the simplest and easiest to use of the ringtone maker software. It has a simple and user friendly interface that let's a user just drag and drop the file to be edited. The capacity of this software is also quite low and thus can be easily downloaded for free. Within seconds you will have created your own ringtone and exported it to your mobile phone.
Mp3 directcut
Mp3 directcut is an extensive ringtone maker and audio editor in terms of the user interface and editing capability. The user interface is clear cut making navigation a piece of cake for anyone. Multi-editing of files is quite easy too thanks to the built-in controls. It supports multiple file formats. To add on top, a bonus feature is its ability to edit compressed file formats like MP3 without decompression.
Songs cutter
This free ringtone maker software allows users to split mixed MP3 to smaller MP3 files while eliminating the need for recompression. It is generally very fast and using it is a walk through the park. The best thing about it is its high precision output which preserves the quality of the audio. Your ringtones will just be as perfect as the original file format.
Free MP3 cutter
Free MP3 cutter is exclusively for MP3 and Wave audio formats. It packs an intuitive easy to use user interface making it quite fast in creating your ringtones. It also allows for audio volume adjustments. Additional effects can be applied to add fade into the ringtone file. Also, the user can opt to make his/her ringtone steroids or mono. Choosing a suitable ringtone maker software for windows is not rocket science as you can see. They are all free download and have amazing features. Download any of these and make your phone your own with self made ringtones.